About the painting NAMASTE and CHORAL TALES: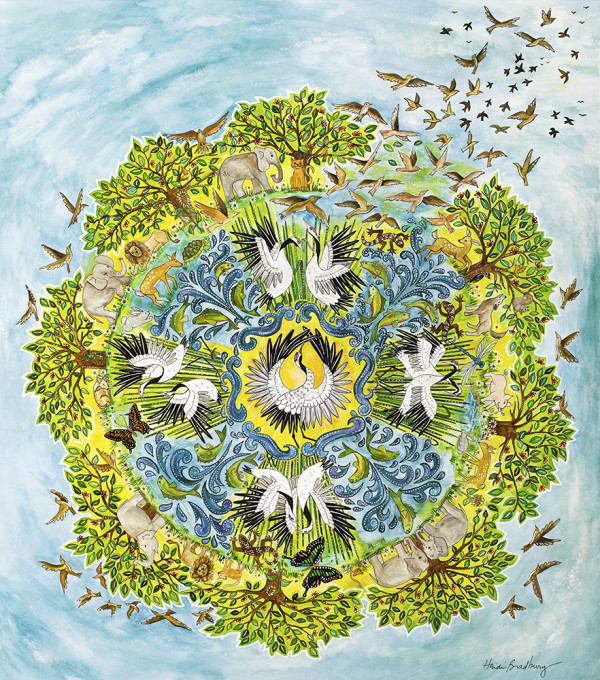 "The four folk tales in The Choral Tales Project teach and touch our humanity, our very soul, and effect change. One can never be quite the same after hearing the stories of cu
ltures to which few of us have been exposed, yet intuitively understand. The tales carry ancient truths about the human condition and show what acts of generosity, kindness, compassion and love toward others, the earth and all of its creatures, can overcome. This message is more important today than any time in the history of the world.
"So it is with this inspiration, a renewed spirit of commitment to these truths and a deep appreciation for being included in this project that I have attempted to capture in the painting "Namaste" the essence of the ageless wisdom to be gleaned from the tales. I want their message to fly off the page and rise from our collective choral voice to reach as far and as many as possible.
"Perhaps this project, as has been the case with other noble achievements, can bring about a greater rebirth, eventually a global renewal of man's responsibility to man and to nature."
For a summary of the Choral Tales Project, please visit theartscollab.org
Giclees and tiles of "Namaste" are available as a gift with a donation to this wonderful project.
For all donations regardless of amount:
Your name will be included in the credits of the final video.
For donations of $100 or more:
Receive an unsigned 10 x 11 inch giclee of the
painting, "Namaste," by Heidi Bradbury.
Highest quality imaging.
For donations of $250 or more:
Receive a personalized ceramic tile bearing
a glossy print of the painting, "Namaste".
(Size, 10 x 12 inches)
For donations of $500 or more:
Receive a limited edition giclee of the painting,
"Namaste," numbered and signed by the artist.
(Image size, 20.5 x 23.25 inches)
For a donation to the project of $10,000:
Receive the original, framed painting of "Namaste."
(Our deep gratitude to the donor who has
contributed this sum.)